Okay, well... this doesn't really make you money, but it helps save money. I guess you could sell it to minors, but I can't condone that kind of activity (legally). Anyways, this isn't really that hard, and should only cost you a couple bucks for about a gallon of wine. Read the directions once through before you start, because at some points you have to be quick. Ready?
1. Gathering Ingredients
Pretty self-explanatory. What you need is a bag of sugar (you use only a small amount, the store-brand is about.... $2. Or, if you live on campus, go steal some from the caf), 3 cans of frozen grape juice (about $5), some measuring spoons, a funnel (if you're in college this should be NO problem), a gallon container (a milk jug works great for free), a balloon or condom, and yeast (they're in the baker section of the supermarket, a 3-pack is usually $1 or you can get the jars for like, $5 and stock up for about 40 gallon's worth).
Side note about yeast: Yeast is what makes this process work. There are many MANY different strains of yeast, and the yeast you buy at the grocery store are not what vintners and beer brewers use. That yeast tends to be more powerful, and
much
more expensive. Yeast is a living fungus, it comes to life when it comes in contact with water. When it is given food (sugar), it eats and releases its byproduct (urine), which is alcohol. Gross, right? Using the correct (hey, we're using baker's yeast here) type of yeast will greatly increase the taste of the wine, but if you mix it how I'm about to, it doesn't work out too bad. If this article gains popularity, I may very well create another going into more detail and more flavor.
2. Mix the concentrate!
Simple process. Thaw the concentrate (I usually nuke em each for about a minute). Pour them into the container using the funnel (otherwise your carpet/bed/goldfish tank will turn purple... trust me), and add TWO glasses of water, NOT three. I would actually recommend on the last glass to not pour the whole thing in, the less water is in it, the more sweet the wine will be. But then again, the less wine you'll have. Your call.
Now it's time to aerate the concoction. Put the cap on the bottle and shake the shit out of that thing. Shake it like the neck of the dude that banged your girlfriend. After about a minute of putting the jug through Hell (and hopefully the cap hasn't come off), you're ready for the next step.
3. Make the Mash!

Now you're ready to add the sugar. But first, DRY OUT THE FUNNEL. Time after time I have forgotten to, and it's the biggest pain in the ass I've ever experienced. Now that you know better and it is dry, dump 3/4 cup sugar into that chaos that's in the jug, put the cap on, and then shake the shit out of it again. If the sugar settles, you're fucked. It's like
Speed
, if you go too slow, you're dead (ok, not dead, but the wine will taste shitty).

4. Prep and add the Yeast.

Preparing and adding the yeast is more complex than just ripping open a packet and dumping the powder into the juice. If you want the yeast to work properly, you need to HYDRATE it first. Follow the directions on the package in order to do this properly. If you're too lazy to follow them precisely, just pour some warm water (around 100 degrees Fahrenheit, don't cook the little fuckers) into a cup and then dump the powder into it. DO NOT STIR the yeast right away - For best results, give it time to hydrate on its own before messing with it. Add a little bit of sugar, they seem to like that.
While you're waiting for them to foam, you can pass the time by naming them, reading them stories, reading my other blogs, eating, cleaning up the mess that is now all over your walls, floor, ceiling, bed, cat, etc.
Once it looks like it's got a 1/4" of foam on top, you're good to go. It can take 5-15 minutes for this; be patient! Your wine won't have any alcohol if you are rushed!

5. Mix yeast with Mash!
Time for us to mix the yeast into the mash. And be ready with that balloon or condom (the condoms worked out better for me, cause A) it was humorous and B) in college they're free and everywhere). Before you mix in the yeast, make sure you put a pinhole into your balloon/condom to make sure the gasses will be able to get out, but not get in. You should not be able to see the hole without the balloon/condom being blown into, except maybe at a minute level. I used a tack, and it took a while to get the technique down without ripping the condom.
Okay, now that that is done, let's add the yeast mix to the grape mash. Pour it through the funnel, then put that balloon over the cap space on it like you'd jump on a grenade. That's it; you're making alcohol now! Don't get rid of the cap, you'll need it in a week or few.


6. Now it's time to wait...
Now we wait. Make sure the jug is in a relatively warm spot (the yeast like it to be about 70 degrees F) and leave it alone. Your friends are going to want to play with it, maybe squeeze the jug because the condom blows up and it looks like a penis is in it; don't let them. It should look like the picture below; the balloon/condom will start blowing up and may be the butt of many a joke, but when the wine is done, you will be king. An aroma will also start to fill your room, and people maybe begin to call you a wino, but it's okay; you're saving money. If it seems as though that your balloon/condom is NOT blowing up (give it a few days), put your ear to the container... you should be hearing crackling (like rice crispies). If not, the yeast died. Repeat the steps above (and don't worry, dead yeast won't kill you).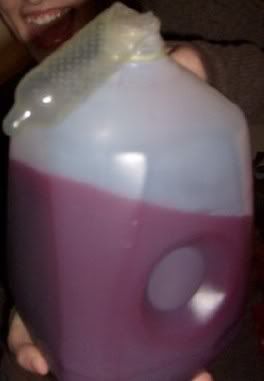 It usually takes between one and two weeks for primary fermentation to stop. You'll know this has occurred when the balloon deflates considerably. Place the jug into a cool place like a refrigerator at this time. Also, put the cap back on the jug once the balloon deflates almost completely. These two steps will protect your alcohol's flavor, especially if you don't drink it right away.
Once primary fermentation has stopped, the alcohol content should be sufficient for you to get a good buzz from the wine. If you want to improve the taste, though, you'll need to let it sit for a month or two before drinking it. If you REALLY want it to taste good, transfer it from the current container (called a "fermentor") into another container, making sure to leave all of the gunk on the bottom in the previous vessel. This gunk, called "sediment" or "dregs" by most, is primarily made up of yeast cells that have died from alcohol poisoning (you try swimming around in your own urine for a while and see what happens!). Though usually not poisonous (at least not any more poisonous than alcohol normally is), they give the wine an odd flavor. Try like rubbing alcohol. To get the wine out without disturbing the dregs too much, siphon the wine out. Siphoning just means you take a hose and suck the wine from one container to another, leaving a lair of wine and sediment behind. If you don't want any saliva to contaminate the wine, rinse your mouth out with Listerine or vodka prior to siphoning and then use an aluminum foil tip on the end of the hose. Pull the foil OFF of the hose just before the wine gets to it and you should be fine. Or, if you're really lazy, just pour it very gently into another container. It will still get rid of a lot of the sediment. Let it sit for a couple days again before you drink it.

And there you go; a new fun project, and a great way to save some money.